micro:bit AI Car (Cert) Online Course Application Form
Want to learn to program? But don't know where to start?
Often hear the words artificial intelligence (AI), machine learning (machine learning), know it is useful but think it is very abstract?
Or do you want to choose interest classes for your children to increase their interest in STEAM?
If you are a teacher, are you worried about preparing STEAM textbooks? Want to get a certificate for added value?
Little Bit Technology Education Center is now offering micro:bit online AI artificial intelligence vehicle (certificate) course to help you learn programming, mechanical control and basic principles of AI through micro:bit.(Also available: micro:bit Online Fundamentals (Certificate) Course
We will provide micro:bit board, AI artificial intelligence car and camera lens, and guide you step by step to complete more than ten interesting experiments.
Our instructors have extensive hands-on and teaching experience in programming, computing, and engineering, and will surely inspire you.
This course is a 7-hour (basic) or 8-hour (certificate) online video course. You can review the content within 3 months and ask questions from the instructor. The instructor will be happy to answer your questions and assist you in completing each experiment.
Please fill out the form below to register or contact us now.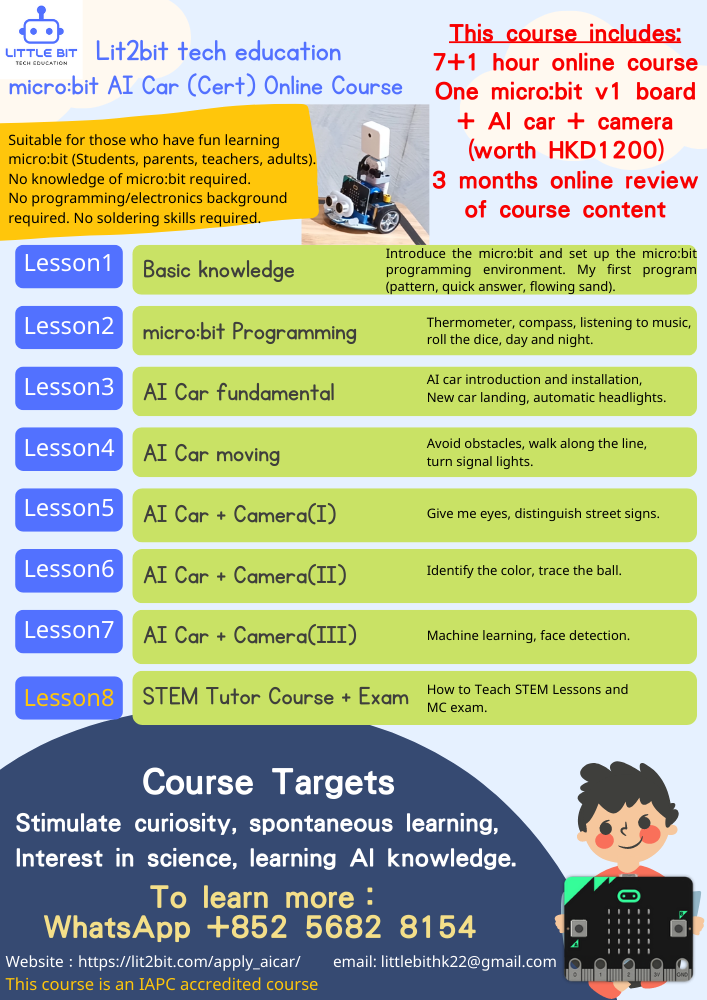 Course Title
micro:bit Online AI Artificial Intelligence Vehicle (Certificate) Course
Course object

 
Suitable for those who have fun learning micro:bit (primary/primary school students, parents, teachers, adults)
No knowledge of micro:bit required
No programming/electronics background required
No welding skills required

Who is suitable for this course?

 
Want to learn to program with micro:bit
Want to learn the fundamentals of machine control and AI

cost

 
7 AI AI car courses USD 312 (original price USD 388)
(Suitable for anyone, completion of the course can be issued a certificate issued by the institution)

or

7+1 AI Artificial Intelligence Vehicle Certificate Course USD 464 (original price USD 541)
(Suitable for those who are 18 years old or above who want to become a tutor, who can obtain a certificate issued by IAPC after passing the exam)
Certified International STEM Trainer (Standard)

Course includes

1) 7+1 hour online course (video)

2) A micro:bit v1 motherboard + AI car + camera (valued at HKD1200)

3) Student platform: 3 months online review of course content + download notes

4) WhatsApp the instructor to ask questions about the course content within three months

How to apply

Please fill in the following basic information
Please pay the fee as instructed
We will send the textbook to your address after receiving the fee
We will give you the login password of the student platform, and you can start watching the course content on the student platform